Desktop Image Editing for Twitter
This week, Twitter has released a new set of features which will enable users to easily edit images via their desktop. The new tool will have re-sizing and cropping functions, along with an ability to zoom in on an image.
Additionally, according to Twitter User Matt Navarra, Twitter also patched the following bugs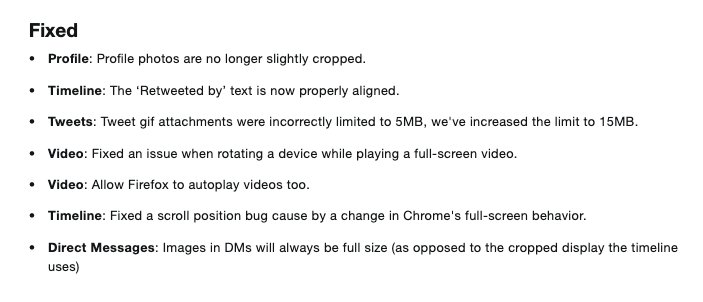 Instagram is Testing a Web Version of Direct Messages
According to TechCrunch, Instagram is internally testing a web-based version of direct messages that will allow marketers to respond to DMs directly from their computer.
You can still only be logged into one Instagram account at a time, so unfortunately, this won't suffice for marketers that manage multiple brands, but this is a great option for individual brands that receive a large influx of messages on Instagram.
Twitter Shows Decline In Users
This week Twitter reported that they have continued to decline in users. See Chart Below
Much of this decline can be attributed to their team's continued effort to crack down on bots and spam accounts. As reported by their team:
"growth was impacted by ongoing health efforts in Q4, both due to how we resourced and prioritized our work and the impact from ongoing success removing spammy and suspicious accounts."
In their report, Twitter emphasized that while overall users are done, their Monetiseable Daily Active users are actually on the rise.
Twitter describes Monetizable Daily Active Users as:
"Users who log in and access Twitter on any given day through twitter.com or our Twitter applications that are able to show ads. Our mDAU are not comparable to current disclosures from other companies, many of whom share a more expansive metric that includes people who are not seeing ads. We considered changing our disclosure to be comparable to other companies, but our goal was not to disclose the largest daily active user number we could. We want to align our external stakeholders around one metric that reflects our goal of delivering value to people on Twitter every day and monetizing that usage."
So while total user count is down, Twitter has actually increased revenue.
Instagram To Include IGTV Promotions In Main Feed
In an effort to bolster support for the lackluster launch of IGTV, Instagram will now be showing promotions in follower main feeds.
Basically, this new feature will allow IGTV Publishers to share video clips to their main feed where users can interact with it.
Facebook Updates 'Groups'
Facebook is continuing to emphasize community tools with a new expansion of 'Group' functionality.  At a recent Community Summit, their team announced the following updates:
Helping group admins invest, engage, and manage: Group admins invest their time and energy to maintain their communities. To make that easier for them, we're adding new post formatting tools and ways to manage their group like how to inform a member when they violate a rule, filtering by date range in their admin activity log, and searching through membership requests by name. We're also launching a pilot program that lets groups and brands collaborate, expanding subscription groups to more partners, and allowing relevant Pages to join their communities.
Connecting people with mentors: We're bringing Mentorship to all Facebook Groups where people can benefit from the direct experience and expertise of others by connecting one-on-one. We'll be rolling this out over the next few months starting with Groups in North and South America.
Helping people donate to nonprofits on Instagram: Last November, we announced that people raised over $1 billion for nonprofit organizations through Charitable Giving on Facebook. Later this year, Instagram will bring the ability for people to support nonprofits that are important to them through a donation sticker in Instagram Stories.
Increasing blood donors in the US: Our Blood Donations feature — which enables people to sign up as blood donors and get notified when blood donation centers near them need blood — will be launching in the US in the next few months.
Simplifying messaging for Page admins: Page admins will now be able to respond to Instagram Direct Messages from their Facebook Page inbox.
Snapchat Releases Virtual Art Gallery
This week, Snapchat launched a new virtual art gallery as part of their celebration of Black History Month.
Initially reported on by Mashable:
"When you first open the Lens, you'll see a selfie frame with a Black History Month banner, but flip the camera and you'll be taken into the AR gallery…

The color and layers of each piece draw you in, and you're actually able to get close and explore the works in the digital space, by moving closer towards them in the physical world — your camera zooms into each piece as you approach."
LinkedIn launches LinkedIn Live
This week, LinkedIn announced that they will be releasing LinkedIn Live. This new feature will allow users and organizations the ability to broadcast real-time video to select groups, or to the platform at large. It is currently only being beta tested in the United States and is invite-only.
This move follows the current trend all of the platforms are moving towards, dynamic video content. No word of when or if they will be releasing the feature more broadly.